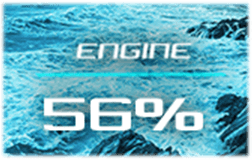 Health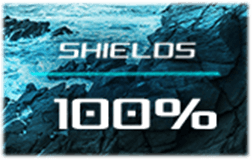 Shield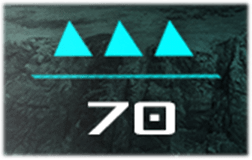 Ammo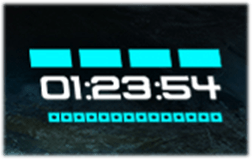 Kill Count
The First Monitor with
steelseries GameSenese
With Steelseries GameSense, RGB LED will not just be a fancy decoration, it helps your gameplay as well. By synching with your in-game activities, it can display vital details of your game through the LED effects. That way you'll get a full grip on your game and your most important stats in a blink of an eye.
CURVED FOR YOUR VIEWING PLEASURE
MSI gaming monitors use a curved display panel that has a curvature rate of 1800R, which is the most comfortable and suitable for a wide range of applications from general computing to gaming. Curved panels also help with gameplay immersion, making you feel more connected to the entire experience.
144HZ REFRESH RATE + 1MS RESPONSE TIME
MSI gaming monitors are equipped with a 144hz refresh rate + 1ms response time VA LED panel which has the most benefit in fast moving game genres such as first person shooters, fighters, racing sims, real-time strategy, and sports. These type of games require very fast and precise movements, which an ultra-high refresh rate and fast response time monitor will put you ahead of your competition.
SMOOTH OUT YOUR GAMEPLAY WITH ADAPTIVE SYNC
MSI Gaming monitors are built with Adaptive Sync technology to create the smoothest visuals for your gameplay. To do this, Adaptive Sync will sync your monitors refresh rate to your AMD® GPU, which helps to eliminate screen tearing or stuttering. Enjoy the game the way it was meant to be enjoyed with ultra-smooth, lag-free visuals. *Note: Adaptive Sync requires a compatible AMD® GPU to be enabled. For more information: http://www.amd.com/en-us/innovations/software-technologies/technologies-gaming/freesync
TAILORED FOR THE PERFECT FIT
The MSI Optix Gaming monitor is built to enhance your gaming sessions to be as comfortable as possible. With adjustments to tilt, swivel, and height, easily change the position of the gaming monitor for maximum ergonomics and optimum viewing experience.
FROM EDGE TO EDGE
With a super narrow bezel, enjoy the best immersion possible in the latest games with a multi-monitor 180 degree setup. Enjoy better continuity between screens while playing games, working, or general computing.
TERMS AND CONDITIONS
Valid entries are counted from 3/1-3/31 using the review date submitted on selected partners.
Included models in this promotion: MPG27C and MPG27CQ gaming monitor.
MSI has the right to deny or ask providing another purchase proof.
MSI reserves the right to deny entry if certain conditions are not met.
MSI has the right to decide which partners could be included.
MSI retains the right to make adjustments on winner's prize without prior notice subject to any directions from a regulatory authority.
Standard redemption submission might take 7-10 days, verified by MSI staff.
Please kindly allow MSI shipping giveaway will take at least 1-2 weeks after MSI internal redemption approval. (Customs and others shipment issue may take longer time.)
Any shipping issue caused by incorrect or incomplete shipping info will not be taken care of by MSI.
Only valid for: DE, AT, CH, NL, FR, ES, TR, UK, BE, DK, FI, SE, NO, LV, CZ, PL, IT, AU, KR, JP, PRC ,TW, PH, USA, CA.