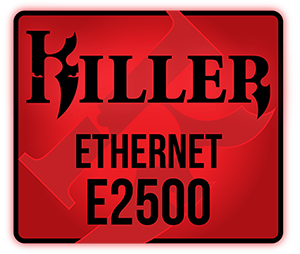 After many times award winning in the network market, the Killer Ethernet now has a new family member – Killer E2500. It sets a new standard for network performance and control by delivering powerful new technology that detects and optimally prioritizes your games, video and chat applications. It claims to use Advanced Stream Detect 2.0 technology to automatically identify and manage the top 1000 global websites, detect and control network traffic and deliver unparalleled speed and performance to your critical applications, to bring the efficiency of networking to the next level. The all new Killer Control Center, which displays a wealth of networking information, gives users full control of their system's networking performance. Information like how much bandwidth each application/websites is using, which Killer interface each application is going over, and how much of user's total broadband connection is being consumed.
To identify and accelerate specific website traffic in addition to networked applications and games, the Killer E2500 provides 6 levels for traffic management and easily to be adjusted by users for both applications and websites to create the perfect customized experience. The latency has been improved, jitter has been reduced, stream video freeze has been eliminated by new features of Killer E2500's Lag and Latency Reduction Technology. It is said that the newer generation product will provide industry-leading latency performance, beating the competition by up to 25% during single application usage and potentially more than 10x faster when multitasking.
Testing the Improvements of Killer E2500
By testing how fast it can process packets would be another way to measure E2500's latency improvements. High priority packets like gaming data won't be delayed or queued by Killer, that's simple to analyzing how many packets can be sent and received between two computers and also to demonstrate latency benefits.
Benefits for Internet Speed
The Killer E2500 is totally designed for online gamers or steamers, also casual website browsing purposes. It delivers outstanding throughput while making sure the real-time applications have the lowest possible latency. For faster data downloads, its powerful Lag and Latency Reduction Technology will make it all possible.
Fully Control of the Internet Performance
The Killer Control Center has been evolved with more capabilities and delivers more exciting experiences than before. Automatic and optimized priority settings will be given to users or can be customized for different games, applications, or website viewing purposes. The internet trafic are set to perform exactly the way they want or even can configure each bandwidth limits easily. Through the Killer Control Center, it's convenient to freeze certain apps not to interfere with your multimedia applications or favorite websites.
Advanced Intelligence
The Killer's Advanced Stream Detect 2.0 Technology offers benefits like downloading large files, enjoy streaming videos, video chatting and doing online game all at the same time but with smooth networking quality. It identifies all network streams and gives them optimal priority automatically so that everything you do online is running in better speed. More over, Killer is the only product line of networking products to support Killer Double Shot Pro Technology, which allows to use both Killer Ethernet and Killer WiFi at the same time. The Killer Control Center offers functions for users to assign which apps to run over each Killer's interfaces. While Killer Ethernet could offer faster internet speed, gamers can configure those game and streaming apps to run over it, and leave the rest apps which is less urgent traffic to run over Killer WiFi.