[Taipei, Taiwan] Originated in 1924, IFA is a global exhibition where consumer electronics manufacturers and traders gather to show their new products and innovations. It is also the most influential consumer electronics and home appliances fair, attracting the attention of international key buyers, dealers and retailers. Different from the traditional B2B mode, MSI, a world leading gaming brand, divides its booths into three theme areas: SOHO Business, Content Creator and Gaming. All visitors can experience the immersive scenrios through MSI comprehensive products come with selected applications.
" As a world leading gaming brand, MSI is the most trusted name in gaming and eSports. MSI has instilled sustained innovation into its gaming and high performance products. As its retail business actively expands, MSI sincerely welcomes elite retail teams to join MSI and create a better future with us," says Sam Chern, MSI Global Marketing Assistant Vice President.
The real experience in SOHO Business, Content Creator and Gaming areas
In MSI three theme areas, SOHO Business and Content Creator exhibition area, MSI corsses the boundary to the potential digital content industry based on its successful experience in high-end gaming. Some professional content creators will be invited on site to demonstrate their actual works to all visitors by MSI P65 Creator and PS42 laptop PCs installed a series of commercial applications cooperated with Intel® such as image editing, music editing and drawing software. With the 8th generation Intel® CoreTM i7/i9 optimized processor, these applications will be more smooth and powerful in operating, as well as to improve work efficiency.
During IFA, MSI will showcase the GS65 gaming laptop PC featuring Alexa, an intelligent voice service from Amazon. Customers will be able to get the weather, check their calendar, create lists, play music, control their smart home devices, and more, just by asking. Alexa will be available on both the MSI GS65 and PS42 laptop PCs later this year, and more. In addition, MSI App Player fulfills every gamer's expectation toward mobile game simulator - intuitive controls with keyboard and mouse. MSI App Player is the world's first to offer customized signature RGB keyboard lighting for popular mobile games including MOBA and FPS shooting games, and more. Mobile gamers can now enjoy their games with better performance, bigger display, and easier control. Additionally, It supports multi-instance, allowing gamers to play multiple games at once. MSI GE73 Raider RGB Gaming Laptop will demo MSI App Player on site.
MSI P65 Creator Laptop: Elegance at its finest with long battery life
Focus on delivering beauty, the P65 creator comes in 2 elegant combinations: a standard silver aluminum finish, and a limited edition with pearl white aluminum with gold accent. The thin bezel display granted an even more compact design: ultra-slim 17.9mm and light 1.88kg. The P65 creator can be carried easily to wherever your inspiration desire, without sacrificing the screen real estate.
To achieve best-in-class color representations, MSI exclusive True Color technology offers exceptional color fidelity, providing close to 100% sRGB accurate and vivid colors that best fit the creation process.
With up to the latest 8th Gen Intel® 8th Core i7 processors, NVIDIA® GeForce® GTX 1070 discrete graphics, this laptop is powerful and sleek in one. MSI exclusive cooling system Cooler Boost Trinity makes P65 creator outperform than the competitors, maintain the gratifying peak performance throughout. Power continued for 9+ hours lets your imagination run wild without being tethered to a power outlet.

MSI PS42 Laptop: Uncompromised performance in the elegant chassis with 10+ hours battery life
As a new member of the Prestige Series, the PS42 stands out from the gaming lineups. Measuring just 15.9 mm thin and 1.19 kg weight, the PS42 packs up to Intel® 8th Core i7 processors and NVIDIA® GeForce® discrete graphics plus a fingerprint sensor into a slim skeleton. Even still, the machine boasts for its nearly bezel-free screen and impressive 10+ hours battery life. Performance in an unprecedented chassis, the MSI PS42 presents both simplicity and elegance. Even still, the machine boasts for its nearly bezel-free screen and impressive 10+ hours battery life. Performance in an unprecedented chassis, the MSI PS42 presents both simplicity and elegance.



COMPUTEX 2018 Best Choice Category Award Winner: MSI GE73 Raider RGB Gaming Laptop
Inspired by exotic sports cars, the new GE73 Raider RGB comes with an astounding RGB LED backlight lid and Per-Key RGB gaming keyboard, offering gamers the finest control over the fanciest illumination ever. 8th Gen Intel® Core™ i7 processor, GeForce® GTX 1070/1060 GPU and a 120Hz 3ms display ensure the fastest, smoothest gaming experiences. The latest MSI Cooler Boost 5 excels as a dual thermal modules, adopting dual Whirlwind Blade fans with 7 heat pipes and well-endowed 4 airflows to intensively and efficiently driving exhaust heat out of the system. Combined with game enhancing features, such as Killer DoubleShot Pro gaming network, Giant Speaker, Nahimic 3, Hi-Res Audio, Dragon Center 2.0 and True Color 2.0, the GE73 Raider RGB is an all-powerful performer that makes gamers outshine all the rest.


MSI GT75 Titan 8RG Gaming Laptop Unleashes Domination-level Gaming
Well equipped and incredibly powerful, the GT75 Titan 8RG is the first gaming laptop to ever feature Intel® Core™ i9 processors with fully unlocked hexa-core performance. With the MSI exclusive Cooler Boost Titan cooling design, the fully unlocked 6-core 12-thread configuration releases its full potential with extreme overclock performance. Together with GeForce® GTX 1080 graphics, the GT75 Titan 8RG once again exceeds the laptop performance boundaries.The Rapid Mechanical SteelSeries keyboard with Per-Key RGB backlight customization offers optimum tactile feedback and is built for fast and responsive action. In addition to the Aquantia 10Gb Ethernet, this laptopp also features an upgraded wireless connection to the latest Killer Wireless-AC 1550. With up to double the speed of the standard 802.11ac Wi-Fi, gamers can enjoy smooth and lag-free gaming experience with or without plugging into Ethernet.



World's 1st 144Hz Thin Bezel Gaming Laptop: MSI GS65 Stealth Thin
Adorned with outstanding golden diamond-cutting design, the GS65 Stealth Thin maximizes the gaming vision with 4.9mm ultra-thin bezel and an 82% screen-to-body ratio while delivering clear and vibrant visuals with its 144Hz, 7ms IPS-level display.
As elegant as it is unprecedented, the ultra-slim GS65 Stealth Thin fuses 8+ hours of battery life with remarkable performance powered by the latest 8th Gen Intel® Core™ i7 processor, GeForce® GTX 1070 GPU, DDR4-2400 memory, superb MSI Cooler Boost Trinity cooling design and world-class Dynaudio sound system. It is also crafted with gamers' most coveted features, including Killer DoubleShot Pro lag-free gaming network, Per-Key RGB keyboard by SteelSeries, the upgraded Dragon Center 2.0 and more.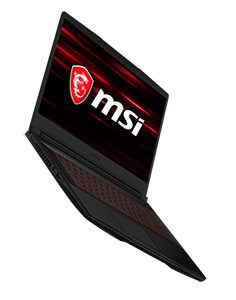 MSI GF63: Bring Thin-and-light gaming to the mainstream
Highlighting portable gaming, MSI's new GF63 makes its debut at the COMPUTEX. The 15.6 laptop with fancy bezel-less panel weights less than 2 kg yet carries up to 8th Gen. Intel® CoreTM i7 processor, NVIDIA® GeForce® GTX 1050 Ti graphics and 7+ hours battery life. The GF63 provides gamers a new choice of portable gaming firepower!
GF63 has a brushed aluminum cover decorated by MSI's signature red dragon shield, plus asymmetric check-pattern on the bottom, making the latoptop's design aesthetic. With optimization brought by the updated MSI Dragon Center 2.0, the GF63 elevates your gaming experience to the next level. Thin, light, yet powerful, the GF63 makes "portable gaming" more accessible than ever before!


WS65 Workstation Laptop– An Evolved Ultra-Thin Mobile Workstation for Creatives and Professionals
MSI's new WS65 mobile workstation features a similar chassis to the GS65 Stealth Thin, with attractive styling and 15.6-inch, ultra-thin bezel display. With Intel's 8th generation processor and up to Quadro P4200 graphics, the WS65 is up to 40% faster than the previous generation. While it is designed for portability, the WS65 also features an 82Whr battery for up to eight hours of battery life.
With the debut of the WS65, MSI also unveiled its new workstation logo. This new minimalistic copper logo gives the line a renewed sense of elegance better suited for the business environment.
Trident X series: Unleash Your Unlimited Gaming Power
Sporting the latest Generation Intel® Core™ K series processors, the MSI Trident X series features the first compact desktop PC to incorporate an SFX power supply and the latest Full size MSI GeForce graphics cards in a 10-liter case. The sturdy glass side panel shows your unlimited gaming power and personalized gaming style. The powerhouse also houses "Silent Storm Cooling" thermal system utilizing three airflow streams to cool major components while gaming. The Trident X series, with its state-of-art technology and a refined design, makes it the ultimate platform for gamers.
Focus on Winning with Optix MAG271CR/ MAG241CR Series Curved Gaming Monitor
The Optix MAG271CR/ MAG241CR series bundles MSI's new Gaming Echo function, the RGB zone on the back reacts to the in-game audio and lighting effects. Pairing that with a 144Hz display and super-fast 1ms response time VA LED panel, the Optix MAG series delivers flawless and smooth gaming experience.
Moreoever, the display carries the Gaming OSD (on screen display) software that allows you to control the monitor's settings, including the contrast ratio, brightness and black equalizer right from Windows desktop. The user-friendly app even supports in-game hotkey options that you can switch customized profiles between different games.
Best Design Award & Category Award Winner: MSI Optix MPG27 Series Gaming Monitor
Recognized as CES 2018 Innovation Award honoree and COMPUTEX 2018 Best Design Award & Category Award winner, MSI Optix MPG27 Series is the first Curved Gaming Monitor with built-in SteelSeries GameSense and a 144Hz, 1ms anti-glare VA LED panel that gives gamers an upper hand over their opponents in fast-paced games. Using the RGB zones on the front of the monitor, gamers can easily program lighting effects in SteelSeries Engine to notify themselves of in-game timers, cooldowns, discord notifications and other important information they want at a glance. With its 178-degree viewing angles, the MPG27 Series is perfect for use in a multiple monitor matrix display for an optimized gaming experience.
MSI @ IFA 2018
Venue: Hall 17, Messegelände Berlin ExpoCenter City
Booth: No. 107
Date: 31 August - 5 September, 2018
Time: 10 am to 6 pm